Pensacola is Florida's westernmost city, sitting on the border to Alabama on the coast of the Gulf of Mexico. It is the largest town on the gulf coast between New Orleans and Tampa. The nearest big city is Mobile, Alabama, and you can drive to New Orleans from Pensacola faster than you can drive to most Florida cities. This is what sets Pensacola apart from other places in Florida: it is more connected to nearby states and the south than most other Florida cities.
Pensacola is also a city with a rich history, a history that began in 1559 and involved being a part of 5 different nations. It wears this history on its sleeve, but the people of Pensacola don't want to be stuck in the past. The new official tagline of Pensacola is "Florida's First & Future" to remind people that the city is looking towards the future while paying homage to the past.
Pensacola Florida Guide
What this Guide covers
This guide features everything you need to know about this city broken down into easy segments for History, Culture, Food & Drink, Shopping, Entertainment, Sports & Activities, Nature, Arts, Transportation, Tourism, Education & Schools, Health & Medical. It is an overview of the city from experts who have experienced the local culture.
See nearby Pensacola Beach City Guide for more information about the beach town, our Ultimate Guide to Pensacola Area Beaches for details about the beachfronts, and find businesses in the area in our Pensacola area business directory (coming soon).
History of Pensacola
The Pensacola area was long a stopping point for the Creek people of present day Alabama and Georgia. Its many waterways made it an ideal spot for hunting and fishing for native people who traveled mainly by canoe. The name Pensacola comes from the native word Panzacola, which means "long-haired people," possibly referring to the tribe of people who resided in the area.
The first documented history of the area comes from the Spanish, who sent an expedition to the Pensacola Bay in 1559 led by Tristán de Luna y Arellano. It was the first European settlement in the United States. Famously, the first Catholic mass took place shortly after the settlers arrived. There is a cross marker located at the site of the mass on Pensacola Beach that has survived many hurricanes and natural disasters. Some refer to it as the "Indestructible Cross". A visit to the cross makes an excellent religious pilgrimage. The first settlers in Pensacola were not as indestructible as the cross. A hurricane hit the area only weeks after the settlement arrived, and some of the settlers were killed in the storm. Two of the ships from this expedition, the Emmanuel Point I and II, are still buried in the Santa Rosa Sound. After that it was a difficult few years, and eventually the Spanish decided that Northwest Florida was too dangerous to settle.
They would not return until 1698, when they established a new settlement in Pensacola in part to protect against the French settlement in Louisiana. France and Spain were at war. France took control of Pensacola in 1719 after the Spanish residents surrendered. After three years, the Spanish took Pensacola back, but only for a short time before the British took over during the French and Indian War in 1763. It was under British control that the foundations for modern-day Pensacola were laid. They created the modern street plan and changed the name of the city from Panzacola to Pensacola. The British gave up control of the city when they were defeated during the American Revolutionary War in 1781, and it once again became the property of the Spanish until the transfer of Florida to the United States in 1821. It was a part of the Confederate States from 1861 until 1865. This constant changing of hands earned Pensacola the nickname "The City of Five Flags".
There are so many locations to visit if you want to experience all of this history first hand. In downtown Pensacola, Seville Square houses so much rich history. It began as a Spanish outpost called San Miguel, and later became a public square under British rule. The Saenger Theatre, located nearby, was built in 1925, but its history extends even further back. It was built using some bricks and balcony railings from the older Pensacola Opera House, built in 1883 and destroyed by a hurricane in 1917. Also nearby is St. Michael's Cemetery, which has graves dating all the way back to 1781.
For even more history in this area, head to the Historic Pensacola Village, which has 28 historic buildings and museums that allow you to step right back through time. This is home to the T.T. Wentworth Jr. Florida State Museum, where you can find artifacts from the Emmanuel Point II, the second oldest shipwreck found in the US. The Historic Pensacola Village is also home to the Museum of Commerce, the Museum of Industry, and much more.

The Pensacola Lighthouse is another great stop. It is located at the Naval Air Station Pensacola, which itself is over 100 years old and also contains the historical Fort Barrancas, built in 1839, and the National Naval Aviation Museum. The lighthouse was built to 150 feet tall in 1858, making it both the oldest and the tallest lighthouse on the Gulf coast.
Another important monument is Fort Pickens on Pensacola Beach, a rare southern fort that was never occupied by the Confederate army and is recognized as an underground railroad site. It was built in 1834 and was not decommissioned until 1947.
Pensacola Culture
The culture of Pensacola is impossible to describe in simple terms because it takes influence from so many different places. The history has greatly impacted the culture, with bits of influence from Spanish, French, and English cultures. It also has a lot of southern charm influenced by the surrounding states and plenty of relaxed seaside atmosphere.
Another important part of Pensacola is the military life. Pensacola is home to The Naval Air Station Pensacola (NAS Pensacola) and Training Center Corry Naval Base. The Hurlburt Field Air Force Base, the Eglin Air Force Base, and the NAS Whiting Field Navy Base are also nearby. NAS Pensacola is one of the most important navy bases in the US. Our Military ranks it as the second best navy base in the country and Navy Times ranks it 3rd. It's also home to the famous Blue Angels, a flight demonstration team that performs aerial displays all around the country. It is not unusual to see them practicing over Pensacola on a daily basis.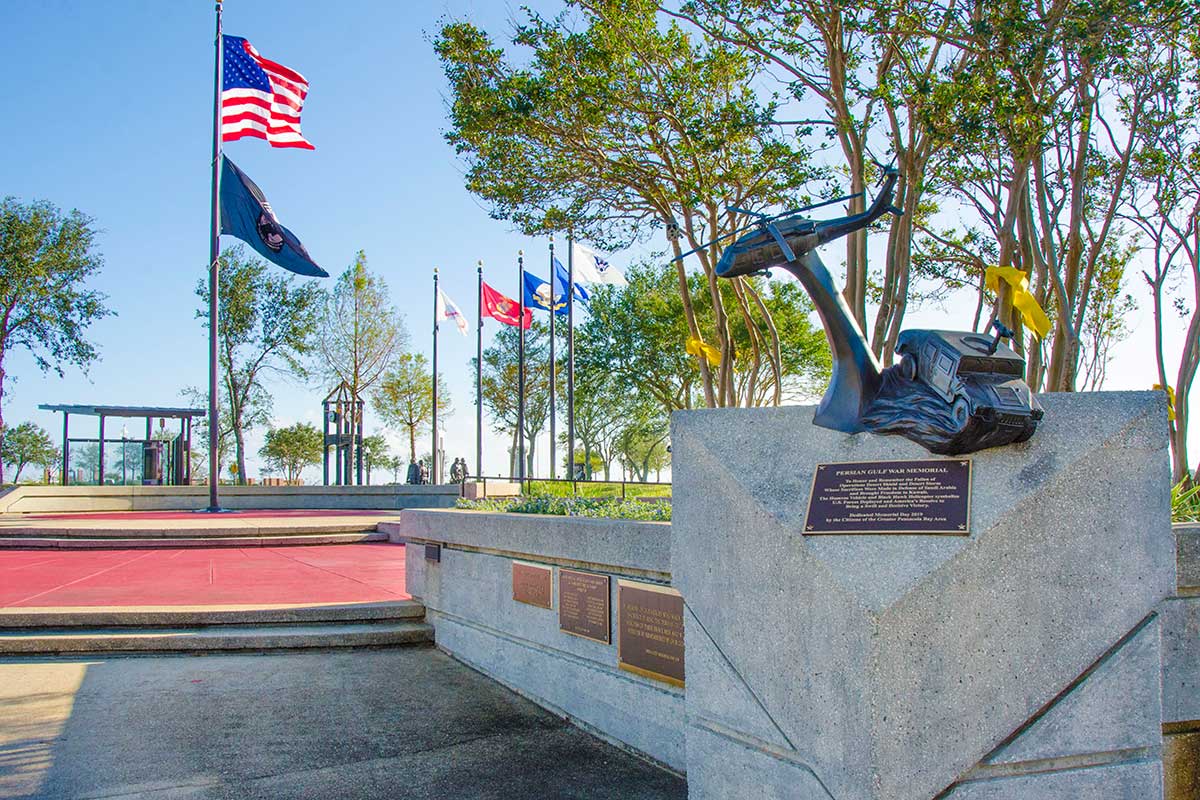 This is an extremely friendly city towards veterans of all kinds. According to the US census, about 10% of the city is made up of veterans. You can honor the sacrifices and service of United States veterans with a trip to the Veterans Memorial Park.
Pensacola is a diverse city. The largest racial/ethnic groups are White (62.1%), Black (28.9%), and Hispanic (5.3%) according to the 2010 US census. African American culture is another important influence in Pensacola. To learn more about African American culture, check out The African American Heritage Society of Pensacola.
Food & Drink
As a coastal city I'm sure it goes without saying that seafood is the cuisine of choice in Pensacola. If you're a seafood lover, Pensacola should definitely be a city on your bucket list. You can find amazing, fresh seafood of pretty much every kind all around town. Just keep in mind, if you want the premium seafood, you have to pay the premium price. Some of the best seafood restaurants include Fishermans Corner Seafood Restaurant, Atlas Oyster House, The Oar House, The Fish House, Nick's Boathouse, and Joe Patti's Seafood Restaurant. Visit during one of the city's seafood festivals, The Pensacola Seafood Festival, Taste of the Beach, or the Pensacola Crawfish Festival, for even more delicacies from the sea.
A more surprising Pensacola specialty is craft beer. According to a study by C+R research in 2017, Pensacola ranked 9th in the nation for number of breweries per capita with 9 per 50,000 people. No other Florida city ranked at all. If you want to join the Pensacola beer craze, the Pensacola Bay Brewery and the Gulf Coast Brewery are great places to start, but they are far from being the only options.
These are just a few of the trends that have helped to make Pensacola a rising food city. Even if you're not into seafood or bear, you'll definitely be able to find something delicious here to eat. Take a stroll through the historic downtown district and check out the numerous options for dining the city has to offer. You won't be disappointed!
Shopping
The Cordova Mall is the only indoor shopping mall in Pensacola. It has over a hundred shops with a huge range of products. There's also an outdoor shopping mall in North Pensacola, The University Towne Plaza. For more local and specialty shops, a stroll along the downtown area is a must. Visit during the weekly Palafox Market every Saturday morning for even more great shopping options.
Antiquing is a popular activity in Pensacola. Start at the Miles Antique Mall, which is the largest antique mall in Florida with over 500 vendors and 1.5 acres of space perfect for hunting down treasures. Other great places to find antiques of all kinds include Franklin Antiques and Flea Market, T and W Flea Market, Blue Moon Antique Mall, and Oooodles Antique Mall.
There are a few great places to check out that are within a short drive from here. In Alabama, The Wharf at Orange Beach has lots of shopping and entertainment. It's a great day trip and less than an hour's drive from downtown Pensacola. For a bargain, head to Silver Sands Premium Outlets in Destin.
Entertainment
The most obvious form of entertainment in Pensacola is the beach. From here you can easily head to Pensacola Beach and Perdido Key (technically within the city of Pensacola) for a relaxed day of solitude or a day of excitement and crowds, depending on the time of year and sometimes even the day of the week. Winter weekdays will be the most isolated if that's what you're into, and spring and summer weekends are the best time to come if you're looking for a party.
For more fun in the sun, Pensacola is a great place to enjoy all kinds of water sports such as boating and fishing. You can rent a boat or a jet ski for the day at tons of locations to explore the many bays and sounds of the intracoastal. Or take a boat tour of the area, there are so many themes to explore. You can join a fishing charter, a dolphin sighting cruise, or any other number of trips available from many different companies.
Pensacola is home to plenty of non-coastal entertainment. There are three bowling alleys in the city: DeLuna Lanes, Cordova Lanes, and Strikerz Entertainment Center. Play mini golf at Goofy Golf Amusement Center. Jump 'til you drop at Sky Zone Trampoline Park. Escaper rooms are a popular form of entertainment here. Check out Escape on Palafox, Exithis Pensacola, Gulf Coast Escape Room, or Escape Pensacola.
There are two small amusement parks in Pensacola: Fast Eddie's Fun Center and Sam's Fun City. If you want a little bit more action, there are two bigger amusement parks just a short drive away in Alabama: Waterville USA, a waterpark in Gulf Shores, and OWA, an expansive amusement park property in Foley.
If you've got kids there's even more fun in store for them. There are two children's museums in Pensacola: the Pensacola Children's Museum and The Pensacola MESS Hall, a hands on science museum that helps kids learn in a fun atmosphere. They'll also have a great time at the JumpNslide Family Fun Center or let them enjoy the outdoors at the Perdido Kid's Park.
For adults only entertainment, there's also plenty of options. Head to downtown at night for Pensacola's best nightlife. A couple of unique locales to check out include the Vinyl Music Hall to catch a concert or Play, an arcade bar for adults only. Visit during the third Friday of the month for Gallery Night to see the streets come alive and to get to know Pensacola's art scene. You can also do some gambling while here in Pensacola with a visit to the Pensacola Greyhound Track & Poker Room.
Arts
For being such a small city, Pensacola has a surprisingly lively art scene as deeply rooted in history as everything else in this city. The best place to experience art is at the Pensacola Museum of Art. You can also see all kinds of art at several galleries around town including the Artel Gallery, the Quayside Art Gallery, and the Blue Morning Gallery. If you want to participate in the arts yourself, pay a visit to the First City Art Center (FCAC), where you can attend classes, events, workshops, and more to learn everything from drawing and painting to glassblowing and ceramics. For even more ways to experience art first hand, visit during Pensacola's big art festival, The Great Gulfcoast Arts Festival.
For music, there are plenty of great options. The Pensacola Symphony Orchestra is the oldest symphony in Florida, dating back to 1926. The Pensacola Opera also has a long history beginning in 1983. These are great ways to have a night out while supporting local artists. Other great musical organizations include Jazz Pensacola, The Pensacola Civic Band, and The Choral Society of Pensacola.
Dance and theatre have similar strong roots. For an amazing show of professional dance, check out Ballet Pensacola. There are lots of ways to experience theatre in Pensacola. Pensacola Little Theatre is the city's oldest theater company, with a history that began in 1926. Other organizations include LaBelle Performing Arts and PenArts.
Sports
There are several professional sports teams in Pensacola. The Pensacola Blue Wahoos is a Minor League Baseball team that plays at the Pensacola Bayfront Stadium. The Pensacola Ice Flyers is an Ice Hockey team in the Southern Professional Hockey League that plays at the Pensacola Civic Center. There is also a soccer team here: The Pensacola Football Club, which plays in the National Premier Soccer League.
People also get very involved in sports teams at the local schools here in Pensacola including the University of West Florida and the local high schools. This is especially true of football. The high schools in the area have a long history of sending players to the NFL.
For leisure, there are plenty of ways to get involved in every sport. Golf is especially popular in this area. Golf courses in the area include the Lost Key Golf Club, the Marcus Pointe Golf Club, the Osceola Municipal Golf Course, and the Perdido Bay Golf Club. Tennis is another popular leisure sport. The Roger Scott Tennis Center is an award winning tennis facility and Northwest Florida's largest.
Nature
Pensacola may be a city, but it contains so many great ways to experience the great Florida outdoors. With so many waterways here, you have tons of opportunities to soak up the sun and enjoy the water. If you want to see the beachfront in its most natural state, the Gulf Island National Seashore has preserved miles of coastal land stretching from Florida into Mississippi including parts of Pensacola Beach and Perdido Key. There are also many other public access points to both beaches, giving you plenty of options for a day at the beach. Turtles nest on the beaches between May and October. Visiting during the nesting season means you have to be more careful on the beach, especially at night, but you may also get to experience baby sea turtles making their first quest to the ocean.
There are two state parks within Pensacola. The Big Lagoon State Park is a great place to experience the waterways of Florida away from the beach. With its location on the Big Lagoon, it's an excellent spot for swimming, kayaking, and paddle boarding. It is also a great place to spot birds and other wildlife as the start of the Great Florida Birding and Wildlife Trail. The Tarkiln Bayou Preserve State Park includes lots of trails for hiking and biking, but its most interesting feature is the many rare plants and animals that live here. This includes the carnivorous white-topped pitcher plant, which is unique to this part of the world and visible here most of the time.
And there's so much more to enjoy. Don't miss the Bay Bluffs Preserve, which is completely unique in Florida as the only spot with bluffs formed from red clay. Other great spots include the Garcon Bayou Nature Park, Innerarity Point Park, the Jones Swamp Wetland Preserve and Nature Trail, and the UWF Boardwalk and Hiking Trails.
Education and Schools
Pensacola is home to the University of West Florida, a public university in the NCAA Division II with over 70 undergraduate degree programs and 32 master's degree programs. It is a relatively small university, with about 12,000 students and a dedication to small class sizes, but it sits on over a thousand acres of land.
Also in Pensacola is Pensacola State College, a part of the Florida College System with 6 campuses offering both 2 and 4 year degrees. Pensacola Christian College is an option for people who want a faith-based education. There is also a campus for Embry-Riddle Aeronautical University and a medical school campus of FSU.
Tourism
Tourism is a top industry in the Pensacola area, fueled mostly by the beach. It's a great place to have a peaceful vacation with the family or with a group of friends. History buffs and nature lovers should definitely have it on their list as well. The military also brings in lots of people from out of town and people visiting loved ones on the base.
Spring and summer are the peak seasons for travel to Pensacola. A visit during these times means crowded beaches, but warm weather and a plethora of activities to participate in. November through February is the slow season. This is when crowds and prices are both low, but some activities/restaurants/ect. may be closed for the season. Keep in mind that hurricane season takes place from the beginning of June until the end of November and this area is especially susceptible to hurricane hits, especially towards the end of summer.
There are plenty of hotels to stay in out by the beach, but if you want to stay more in town, there are lots of options for that as well. If you're here for the history, why not stay in a hotel that has plenty of history of its own? The Pensacola Grand Hotel is located at the site of the Louisville and Nashville passenger depot built in 1912. The Lee House is a boutique hotel that sits at the site of a house originally built in 1866. The New World Inn was renovated from an old box factory located right on Palafox street.
Transportation
The main entry into Pensacola is the Pensacola International Airport. The city is mainly a driving city, but there are a few ways to get around if you are without a car. Escambia County Area Transit (ECAT) offers buses around the county, a beach trolley available seasonally, and a trolley around the UWF campus. Pensacola Bay Cruises also offers a ferry back and forth between Downtown Pensacola and Pensacola Beach during the busy seasons.
Health and Medical
Healthcare is another leading industry in Pensacola. Pensacola has several hospitals, mostly in the Baptist Health Care and the Ascension Sacred Heart Health Systems. It is also home to the West Florida Hospital and the Select Specialty Hospital.
For Local Businesses including Food & Drinks, Services, Health & Medical, Education, Sports & Recreation, Arts & Entertainment and more, see our Pensacola Business Directory
Who we are
We are locals and writers who love to research, explore and share information about Florida. Our goal is simple. To share the positive things that make the area unique. To be real without an agenda. And to support a strong local community.
All images on this page copyright © FloridaSmart.com, Cortney Tarell, Photographer