Florida now has the largest pool in the U.S.
Crystal Lagoon
What picture do these 2 words create in your mind? Perhaps beautiful, crystal clear water that you want to swim in, play in and live by. Well, that's exactly what it is. A Crystal Lagoons® amenity is a man-made crystal clear lagoon that stretches across several acres and offers recreational activities including swimming, kayaking, paddle boarding, sailing and more. And Florida is the first place in the U.S. to incorporate the Crystal Lagoons® technology. The largest pool in the U.S. is now open in Wesley Chapel, Florida as part of the Epperson community.
World's Largest Pool
What happens when a biochemist/entrepreneur/real estate developer, falls in love with the crystal clear waters in the Caribbean and gets the idea to bring it to his local waterfront development on the south pacific ocean? Innovation happens.
Fernando Fishmann wanted to bring the crystal waters of the Caribbean to his waterfront real estate project in Chile, where the Pacific coast waterfront was more limiting than the water recreational activities in the Caribbean. So he built the world's largest pool. A 20-acre salt-water lagoon between the ocean and the buildings. Keeping the water clear was too much of a challenge for the current pool technologies and led Fishmann to utilize his biochemistry knowledge to create a new filtration system combined with innovative technologies to keep the water crystal clear.
Innovation Spreads
This beautiful lagoon and it's patented technology was too good to be limited to one location. Crystal Lagoons® has quickly become a hot commodity with developers in more than 60 countries. And the technology offers more than swimming and recreation. This exciting advancement in water treatment provides seawater purification, pump storage systems to reduce energy costs, and artificial aquifer reservoirs. The company has even conceptualized a city project that would couple industrial with recreational activities providing clean energy and water at very low costs solving problems for communities around the globe.
Introduction in Florida, U.S.
The company opened its U.S. headquarters in Miami in 2013. Metro Development Group jumped on board to create Florida communities with this beautiful crystal clear water lagoon technology. With the recently opened and highly successful Epperson Lagoon in Wesley Chapel, the first Crystal Lagoons® amenity in the U.S. and currently the largest pool in the U.S., Metro Development has more communities planned in communities along the West coast. And they are not the only ones. More communities are being planned around the state of Florida.
SoLē Mia Miami is a planned mixed-use community in North Miami Bal Harbor that will feature Crystal Lagoons® technology.
Other Florida locations that are in the planning or development stage of a Crystal Lagoons® amenity to include Florida's largest pool includes Hollywood, Pembroke Pines, Miramar, Fort Lauderdale, Coral Springs, Wellington, Palm Beach Gardens, West Palm Beach, Port St Lucie, Ft Myers, Tampa Bay area, Venice, Destin, Lake Panasoffkee, Citrus Hills, Orlando, Kissimmee, Winter Park, Lake Nona, Daytona, Jacksonville, and Panama City. And if you think you'd like to live in one of these communities, you are not alone. There is a waiting list for most of the up and coming communities.
While the amazing water may seem like the best part of these lagoons, it gets better.
Crystal Lagoons® use a technology that uses 100 times less chemicals than a traditional swimming pool and 50 times less energy than conventional pool filtration systems. And with water shortages always a concern around the world, these lagoons actually save on water! Being in a dry location, this might seem risky, but in actuality, the lagoon will use 30 times less water than the 18-hole golf course.
Location Location Location
Crystal Lagoons® is changing the idea of waterfront properties. Now waterfront properties can be anywhere in the world. Locations such as Egypt offer a beautiful oasis in the middle of the desert. Land that was once unusable, now has a purpose and value.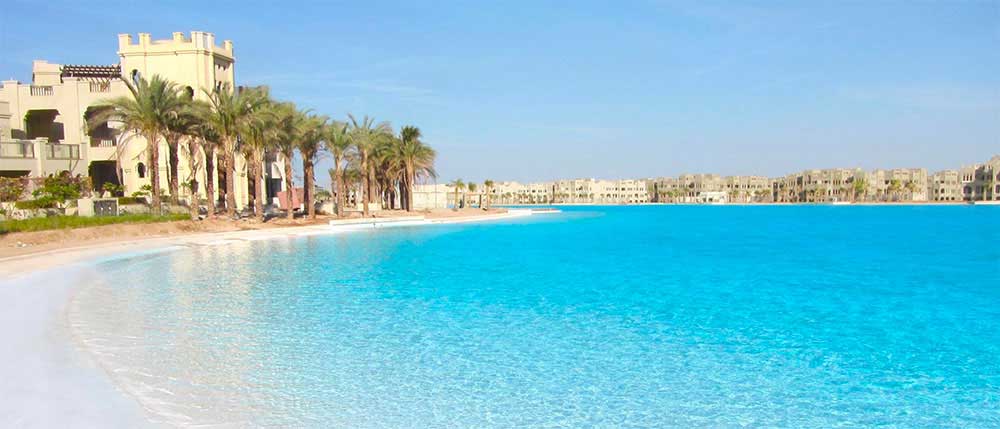 Doesn't Florida have enough waterfront properties?
While it seems like Florida has enough waterfront areas with over 600 miles of beaches, a coastline of over 1000 miles, and over 30,000 lakes, Florida developers jumped into the partnership with Crystal Lagoons® first in the U.S. because they understand the desire people have to live and play by the water. And with safety being a huge concern, these lagoons offer a clean, safe place to enjoy waterfront living. Crystal Lagoons® are a fast growing trend in waterfront areas where the lagoon can add to the beauty and waterfront activities available.
My thoughts as a Floridian who loves the beach
The beach is my happy place. I love the waves, the sand, the shells, and interesting people and wildlife. And to me, there is nothing more thrilling than riding the waves on a jet ski or boat. But, I also love to swim and really do not like swimming in the ocean or in lakes. Water brings me peace. The idea of living next to a lagoon sized crystal clear pool exponentially thrills me. Having raised 4 children, this Crystal Lagoons® type of community would have been a dream location for our family. We would, of course, still go to the beach, because after all, living in Florida you are never more than 60 miles from the beach so it is always a fun day trip or weekend getaway. But a lifestyle community that would be similar to living on a lake, but with crystal clear waters, more community activities, and no alligators, well, enough said!
Not just for Home communities
Crystal Lagoons ® is also growing as a trend in resorts around the world. It offers an enormous benefit to resorts to attract visitors with popular waterfront amenities.
Las Vegas, Nevada, Wynn Paradise Park Resort is planning to build a 38 acre lagoon surrounded by a boardwalk and beach giving visitors something they couldn't get at other Nevada resorts, water activities.
Florida is proud to be the first in the U.S. to offer the Crystal Lagoons® amenity in Wesley Chapel and is leading the way to offer more communities all around the state. Go to the Crystal Lagoons® website to see the current projects.
Photo Credits
Crystal Lagoons®